Southern California Dive Sites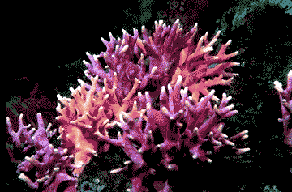 Santa Catalina Island
This site, a favorite destination for many divers, is just over two hours from the Los Angeles Harbor and serves as a great single-day destination or on the last day of a multi-day trip. With great kelp beds, a variety of life, pinnacles and walls, it offers something for all divers. The visibility is usually 50 to 100 feet, making photography and sightseeing popular activities. Great views of the Purple Hydrocoral (at right) can be found at Farnsworth Bank.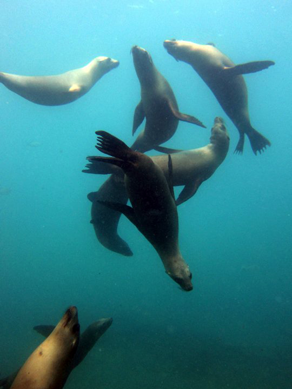 Santa Barbara Island
Due to its large Sea Lion population, it is a very popular dive-site destination. Here the diver is treated to diving with these friendly marine mammals, kelp beds, interesting topography, with caverns and walls, making the dive experience of Santa Barbara Island unique. Santa Barbara Island becomes a favorite for divers to return to time and time again.
San Clemente Island
This 21 mile-long island, is situated at a distance of approximately 57 miles from the main land. It's about a five-hour run from San Pedro Harbor to most of the dive sites on the front side. San Clemente is known for large game fish, especially yellowtail and white sea bass. Excellent photography opportunities are available all around the island, with its purple hydrocoral, colorful gorgonians, nudibranchs and anemones flourishing at almost any depth.
Cortes Bank
This is one of the most exciting and advanced dive sites to visit weather permitting. Cortes Bank is made up of a chain of peaks that are a hazard for ships but great for diving and surfing. A red bell buoy marks the shallow spot on the bank that in some areas rises to just a few feet from the surface. Cortes Bank offers clear water and great diving for both the sightseer and hunter alike. Due to its remote location and open ocean, extreme care must be followed when diving this site.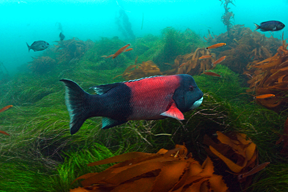 The Sand Dollar visits the above islands with the most regularly scheduled trips. However, trips to San Nicolas Island, Begg Rock and the Northern Channel Islands (San Miguel, Santa Rosa, Santa Cruz) are available destinations for charters.
Experienced or novice divers will enjoy great Southern California Diving aboard the Sand Dollar. Do not hesitate any longer. Find your trip and book your reservation on our trip calendar now.