Technical Diving Information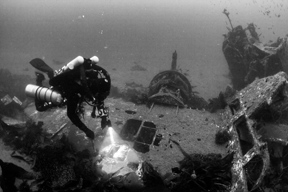 The technical expeditions and/or deep wreck diving trips are special purpose trips that require proper training and equipment. The Sand Dollar is chartered by competent organizations (such as ORG), that require passengers meet very stringent competency requirements.
These technical dive trips are well planned trips, that are either two or three day multi-day trips with very clear objectives and dive plans. These trips target depths as shallow as 150 fsw or as deep as 300+ fsw, either as training classes or exploration.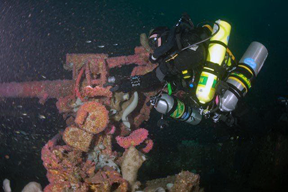 For trips with an MOD 150 fsw, a diver will be expected to know how to manage high-test Nitrox (40% plus) including pure oxygen and have been introduced to the criteria for "advanced nitrox" equipment selection and configuration. In addition, they should be versed in basic contingency planning and able to make informed decisions to undertake dives outside the NDLs (as per US Navy and DCIEM tables) and manage the increased risk associated with these dives based on best practice information, limitation of training and "objective" assessment of personal limitations.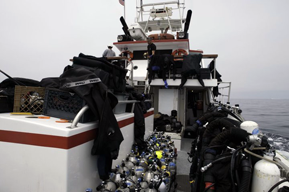 For trips with an MOD 200 fsw, divers should be able to make dives requiring long decompression stops and needing expedition quality contingency planning. They also fully understand 7 water behaviors dictated by use of helium in breathing mixes; are competent using complex gas management calculations and have the ability to create, manage and modify complex decompression schedules and apply them as appropriate to the dive conditions.
For trips with an MOD 300+ fsw, divers have the ability to plan and lead complex helium decompression dives that require two or more decompression gases and/or additional stages of bottom gas. Advanced trimix divers are able to create very thorough contingency plans and have a clear understanding of the limits of their team, their equipment and themselves.
If you are a technical diver looking to book a trip on the Sand Dollar, see our trip schedule to find and book your reservation. If you would like to charter the Sand Dollar for a technical or expedition dive trip contact us at Diving Charters, Inc.