Scuba Diving Information
SCUBA diving trips are the most popular and frequent charters aboard the Sand Dollar. These are recreational trips that are well suited for both novice and advanced divers, sightseers and photographers.
Many of our trips are chartered by diving organizations who are certifying their students' open water skills and who provide instructors and dive masters for their trips. When you are booking your trip (here) please ensure that you understand the organizer trip policies. Whenever it is an open boat trip, Diving Charters provide skilled dive masters and a capable crew with a chase boat for your safety. Based on the captain's discretion, the Sand Dollar has many choices of dive sites to visit.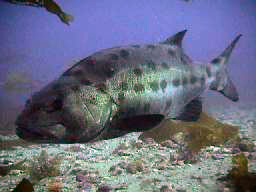 When planning for your trip, remember that Low Pressure Steel cylinders are available for your use on board the Sand Dollar. However, all SCUBA divers with few exceptions are expected to bring a full set of diving gear for their use, including weight and weight belts. If you have flown to Southern California for a trip, we will provide your lead and weight belts.
Diving Charters does not rent or setup rentals for dive gear for any trips. However, some of the chartered trip organizers are dive shops that can quickly fulfill your gear requirements. Please check with them when booking your trip.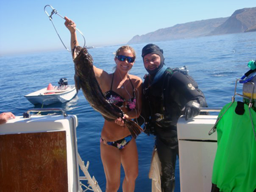 If you are a spear fisherman (hunter) planning a trip, we strongly recommend that you check with the trip organizer for hunting policies on their charter. If hunting is permitted on your selected trip, you need to bring a valid California Fishing license and be fully aware of the current Department of Fish and Game regulations. You must also bring a filet knife and ziploc bags to clean and put away your catch.
The general boat polices are available here and are applicable to all charters in addition to the trip organizer policies. You can also see our frequently asked questions (FAQ) page for additional information to help you plan your trip. Our boat location and directions can be found here.
If you are a SCUBA diver looking to book a trip on the Sand Dollar, see our trip schedule to find and book your reservation. If you would like to charter the Sand Dollar for a SCUBA diving trip contact us at Diving Charters, Inc.